Key Information
Date

17 November

Physical Locations

Singapore, London & Chicago

Anticipated Virtual Audience

1,000+ Delegates
Engage in the Event Across Cities!
CTBUH's first virtual conference will be a curated 21-hour event rolling across three cities / time zones. Attendees can engage in the programing in a variety of ways, including
Attend a physical portion of the event if you are located in Singapore, London or Chicago;
Live-stream any/all of the sessions from your own local time zone (see examples below); and
Watch any of the content you didn't catch live via recordings hosted the next day, or within the 60 days following the event.
Sessions will be broadcast live, with the program starting in the morning of 17 November in each city. The final session in each city will be a joint panel discussion with the next city, embracing other international speakers, thus emphasizing the rolling regional nature of the conference.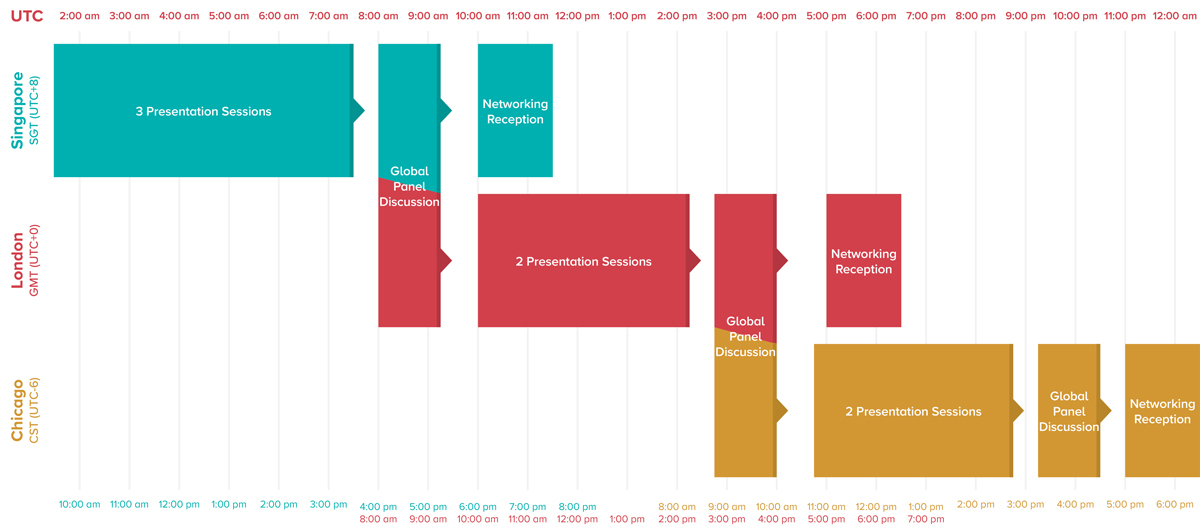 Example Scenarios for Joining Virtually
Click each city for more program details.
Beijing (CST, UTC+8 hours)

Tuesday, 17 November 2020
9:30am–11:00am

Watch Session 1 Live-streaming from Singapore

11:00am–11:30am

Break in programming (Coffee break in Singapore)

11:30am–1:00pm

Watch Session 2 Live-streaming from Singapore

1:00pm–2:00pm

Break in programming (Lunch in Singapore)

2:00pm–3:30pm

Watch Session 3 Live-streaming from Singapore

3:30pm–4:00pm

Break in programming (Coffee break in Singapore)

4:00pm–5:15pm

Watch Joint International Panel Session 4 Live-streaming from Singapore and London

5:15pm–5:30pm

Break in programming (Coffee break in London)

5:30pm–6:00pm
Watch Session 5 Live-streaming from London
6:00pm–6:30pm

Break in programming (Coffee break in London)
6:30pm–8:00pm

Watch Session 6 Live-streaming from London
8:00pm–9:00pm
Break in programming (Lunch in London)
9:00pm–10:30pm

Watch Session 7 Live-streaming from London

Watch Joint International Panel Session 8 Recorded from London and Chicago, available next day

Watch Session 9, Session 10, and Session 11 Recorded from Chicago, available next day

Berlin (CET, UTC+1 hours)

Tuesday, 17 November 2020
7:00am–8:30am

Watch Session 3 Live-streaming from Singapore

8:30am–9:00am

Break in programming (Coffee break in Singapore)

9:00am–10:15am

Watch Joint International Panel Session 4 Live-streaming from Singapore and London

10:15am–10:30am

Break in programming (Coffee break in London)

10:30am–11:00am

Watch Session 5 Live-streaming from London

11:00am–11:30am
Break in programming (Coffee break in London)
11:30am–1:00pm

Watch Session 6 Live-streaming from London
1:00pm–2:00pm

Break in programming (Lunch in London)

2:00pm–3:30pm

Watch Session 7 Live-streaming from London
3:30pm–4:00pm

Break in programming (Coffee break in London)

4:00pm–5:15pm
Watch Joint International Panel Session 8 Live-streaming from London and Chicago
5:15pm–5:45pm

Break in programming (Coffee break in Chicago)

5:45pm–7:15pm

Watch Session 9 Live-streaming from Chicago

7:15pm–8:15pm

Break in programming (Lunch in Chicago)

8:15pm–9:45pm

Watch Session 10 Live-streaming from Chicago

Watch Session 1 and Session 2 Recorded from Singapore, available next day

Watch Session 11 Recorded from Chicago, available next day

Mumbai (IST, UTC+5.5 hours)

Tuesday, 17 November 2020
7:00am–8:30am
Watch Session 1 Live-streaming from Singapore
8:30am–9:00am
Break in programming (Coffee break in Singapore)
9:00am–10:30am
Watch Session 2 Live-streaming from Singapore
10:30am–11:30am
Break in programming (Lunch in Singapore)

11:30am–1:00pm
Watch Session 3 Live-streaming from Singapore
1:00pm–1:30pm
Break in programming (Coffee break in Singapore)
1:30pm–2:45pm
Watch Joint International Panel Session 4 Live-streaming from Singapore and London
2:45pm–3:00pm
Break in programming (Coffee break in London)
3:00pm–3:30pm
Watch Session 5 Live-streaming from London
3:30pm–4:00pm
Break in programming (Coffee break in London)
4:00pm–5:30pm
Watch Session 6 Live-streaming from London
5:30pm–6:30pm
Break in programming (Lunch in London)
6:30pm–8:00pm
Watch Session 7 Live-streaming from London
8:00pm–8:30pm
Break in programming (Coffee break in London)
8:30pm–9:45pm
Watch Joint International Panel Session 8 Live-streaming from London and Chicago
Watch Session 9, Session 10, and Session 11 Recorded from Chicago, available next day
Rio de Janeiro (BRT, UTC-3 hours)

Monday, 16 November 2020
10:30pm–12:00pm
Watch Session 1 Live-streaming from Singapore

Tuesday, 17 November 2020
7:30am–9:00am

Watch Session 6 Live-streaming from London

9:00am–10:00am

Break in programming (Lunch in London)

10:00am–11:30am

Watch Session 7 Live-streaming from London

11:30am–12:00pm

Break in programming (Coffee break in London)

12:00pm–1:15pm

Watch Joint International Panel Session 8 Live-streaming from London and Chicago
1:15pm–1:45pm

Break in programming (Coffee break in Chicago)

1:45pm–3:15pm

Watch Session 9 Live-streaming from Chicago

3:15pm–4:15pm

Break in programming (Lunch in Chicago)

4:15pm–5:45pm

Watch Session 10 Live-streaming from Chicago

5:45pm–6:15pm

Break in programming (Coffee break in Chicago)

6:15pm–7:30pm
Watch Session 11 Live-streaming from Chicago

Watch Session 2 and Session 3 Recorded from Singapore, available next day
Watch Joint International Panel Session 4 Recorded from Singapore and London, available next day
Watch Session 5 Recorded from London, available next day
Seattle/San Francisco (PST, UTC-8 hours)
Sydney (AEDT, UTC+11 hours)

Tuesday, 17 November 2020
12:30pm–2:00pm
Watch Session 1 Live-streaming from Singapore
2:00pm–2:30pm
Break in programming (Coffee break in Singapore)
2:30pm–4:00pm
Watch Session 2 Live-streaming from Singapore
4:00pm–5:00pm
Break in programming (Lunch in Singapore)
5:00pm–6:30pm
Watch Session 3 Live-streaming from Singapore
6:30pm–7:00pm
Break in programming (Coffee break in Singapore)
7:00pm–8:15pm
Watch Joint International Panel Session 4 Live-streaming from Singapore and London
8:15pm–8:30pm
Break in programming (Coffee break in London)
8:30pm–9:00pm
Watch Session 5 Live-streaming from London
Watch Session 6 and Session 7 Recorded from London, available next day
Watch Joint International Panel Session 8 Recorded from London and Chicago, available next day
Watch Session 9, Session 10, and Session 11 Recorded from Chicago, available next day
Tel Aviv (IST, UTC+2 hours)

Tuesday, 17 November 2020
8:00am–9:30am
Watch Session 3 Live-streaming from Singapore
9:30am–10:00am
Break in programming (Coffee break in Singapore)
10:00am–11:15am
Watch Joint International Panel Session 4 Live-streaming from Singapore and London
11:15am–11:30am
Break in programming (Coffee break in London)
11:30am–12:00pm
Watch Session 5 Live-streaming from London
12:00pm–12:30pm
Break in programming (Coffee break in London)
12:30pm–2:00pm
Watch Session 6 Live-streaming from London
2:00pm–3:00pm
Break in programming (Lunch in London)
3:00pm–4:30pm
Watch Session 7 Live-streaming from London
4:30pm–5:00pm
Break in programming (Coffee break in London)
5:00pm–6:15pm
Watch Joint International Panel Session 8 Live-streaming from London and Chicago
6:15pm–6:45pm
Break in programming (Coffee break in Chicago)
6:45pm–8:15pm
Watch Session 9 Live-streaming from Chicago
8:15pm–9:15pm
Break in programming (Lunch in Chicago)
9:15pm–10:45pm
Watch Session 10 Live-streaming from Chicago
Watch Session 1 and Session 2 Recorded from Singapore, available next day
Watch Session 11 Recorded from Chicago, available next day
Toronto/NYC (EST, UTC-5 hours)

Monday, 16 November 2020
8:30pm–10:00pm
Watch Session 1 Live-streaming from Singapore
Tuesday, 17 November 2020
8:00am–9:30am
Watch Session 7 Live-streaming from London
9:30am–10:00am
Break in programming (Coffee break in London)
10:00am–11:15am
Watch Joint International Panel Session 8 Live-streaming from London and Chicago
11:15am–11:45am
Break in programming (Coffee break in Chicago)
11:45am–1:15pm
Watch Session 9 Live-streaming from Chicago
1:15pm–2:15pm
Break in programming (Lunch in Chicago)
2:15pm–3:45pm
Watch Session 10 Live-streaming from Chicago
3:45pm–4:15pm
Break in programming (Coffee break in Chicago)
4:15pm–5:30pm
Watch Session 11 Live-streaming from Chicago
Watch Session 2 and Session 3 Recorded from Singapore, available next day
Watch Joint International Panel Session 4 Recorded from Singapore and London, available next day
Watch Session 5 and Session 6 Recorded from London, available next day